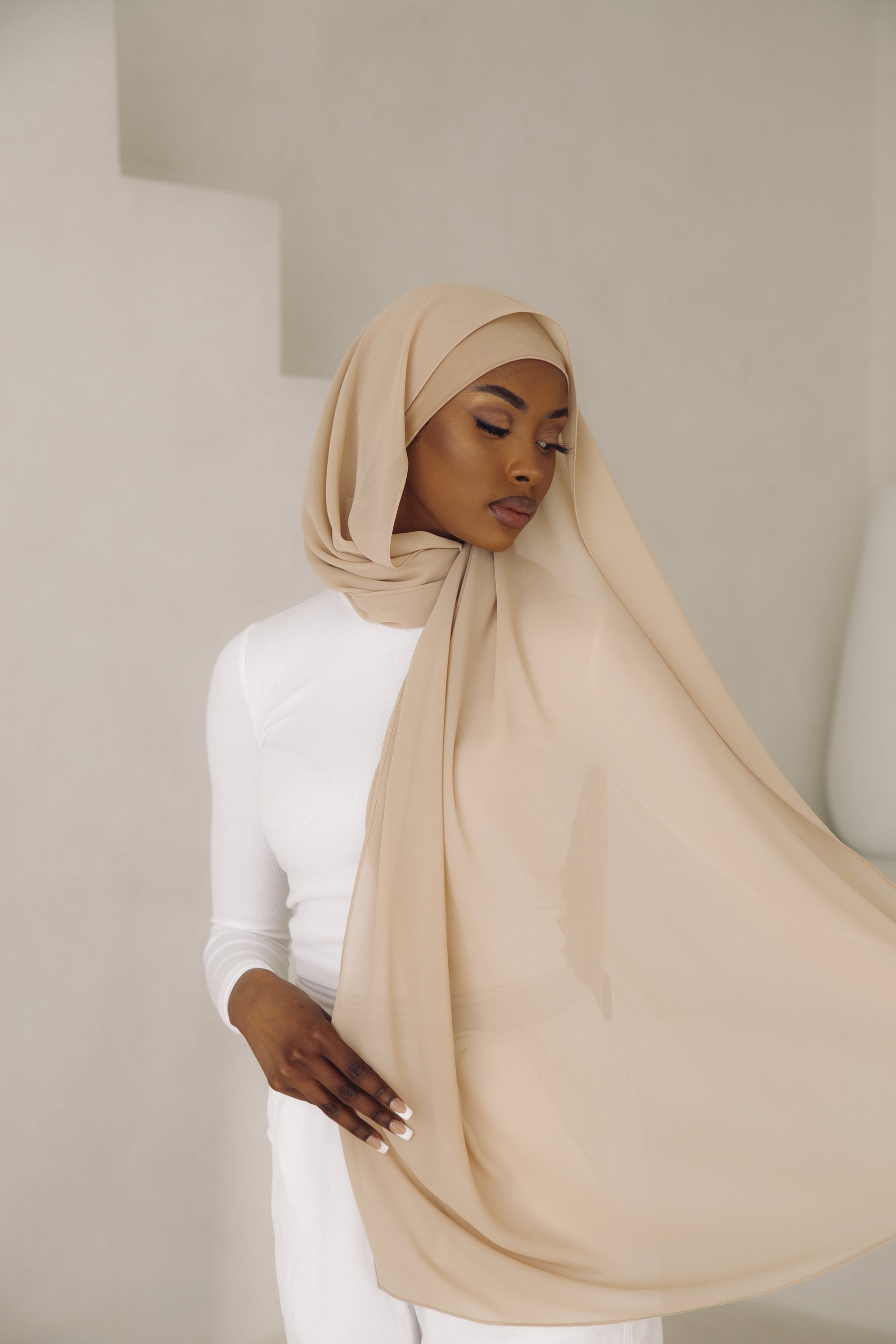 Matching Hijab & Undercap Set - Shell
 You deserve to look your best every day. That's why we've crafted essential custom-dyed Matching Hijab and Undercaps, specifically with you in mind. Our Matching Hijabs and Undercaps make it easy to elevate your look in seconds.
 Why did we choose bamboo jersey underscarf?
Your Undercap will likely be your best friend for 8 hours of the day—might as well make it a good one! Our bamboo Jersey Undercap is made from a light and breathable material that protects against breakage, frizz and static. They are made with the highest grade of UV-protective bamboo material, which is more breathable than cotton and has natural moisture wicking properties. Say goodbye to hairloss & hello to our Matching Hijab & Bamboo Jersey Undercap.
Set includes: 
Premium Chiffon Hijab & Matching Bamboo Jersey Undercap
Size: 180 x 70 cm
Obsessed is an understatement
I love loveeee Azelefas hijabs. The bamboo material undercap is so soft on the skin and feels so luxe. And her chiffon flowed so effortlessly and I feel expensiveee when I'm wearing the full set. Deffo recommend for anyone looking to purchase hijabs because they'll last you a lifetime!
Get i! Don't think twice !
One of my favourite hijabs it can be matched and styled with so many things azelefa is the ONLY place I get my hijabs❤️
The Perfect Hijab Set 😍😍
I love this hijab set so much! The material of the undercap is literally so soft 😍 I also got this set in black for everyday use! Im so excited to purchase more in the near future ♥️ There are so many shades to choose from, thank you so much Azelefa 🤍
Such a BEAUTIFUL COLOUR!
Not only is the packaging so beautifully designed, the hijab & matching under cap quality speaks for itself. 11/10 ❤️